HOME
|
The Official Gefen Publishing House Website -
One Stop Webstore for Jewish Books and Hebrew Studies Textbooks From Israel
|
Join Email
List
|
Contact
us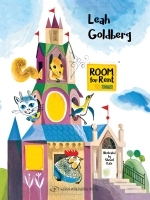 Price In Israel NIS 50
Room for Rent
Authors:
Leah Goldberg
Jessica Sitbon (translator from Hebrew)
Publisher: Gefen Publishing House
Price: $17.95
Special Price: $14.36
Buy from Gefen for this special price!
ISBN 10:
9652299200
ISBN 13:
9789652299208
Catalog Number:
920-8
Number of Pages:
24
Year Published:
2017
Description:
When Sir Reginald Mouse disappears from his apartment, the neighbors in the building advertise his room for rent. One prospective renter after another comes to see the apartment but finds fault with one or another of the neighbors. The hardworking Ant finds the Hen lazy, the Rabbit criticizes the Cuckoo for abandoning her young, the Pig finds the Cat beneath him because of her color (and is roundly chased out by the neighbors for his racism), and the Nightingale thinks the Squirrel just a noisemaker. At last the Dove arrives, bringing with her an eye for the good and restoring an atmosphere of peace.
This simple classic has been the bestselling children's book in Israel for fifty years. Now English-speaking children have access to its Jewish wisdom, given over with gentle charm.