HOME
|
The Official Gefen Publishing House Website -
One Stop Webstore for Jewish Books and Hebrew Studies Textbooks From Israel
|
Join Email
List
|
Contact
us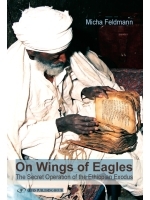 Amazing Story of Operation Solomon, May 1991
On Wings of Eagles
The Secret Operation of the Ethiopian Exodus
Author:
Micha Feldmann
Publisher: Gefen Publishing House
Price: $24.95
Special Price: $19.95
Buy from Gefen for this special price!
Format:
Paperback
ISBN 10:
9652295698
ISBN 13:
9789652295699
Catalog Number:
9789652295699
Number of Pages:
352
Year Published:
2012
Description:
Told through diary entries interspersed with the stories of many Ethiopian Jews in their own words, this is the gripping account of the Jewish Agency's coordinator of Ethiopian aliyah as he worked over a decade to free the Beta Israel from shocking conditions. With Ethiopia overrun by rebels, the Jews had left their villages in northern Ethiopia by the thousands to trek for weeks to the Sudan. There, in squalid refugee camps, untold numbers died of disease and malnutrition. Those left alive were motivated only by the desire to return to Zion. Starving, preyed-upon, and often separated from their families in heartbreaking ways, the refugees also faced stark cultural adjustments in Israel.
When Israel was able to open an embassy in Ethiopia in January 1990, the author went to Addis Ababa, where his crowning achievement as the Jewish Agency's representative and Israeli consul was overseeing the immigration of over fourteen thousand Jews from the besieged city in the dramatic two-day Operation Solomon in May 1991. This modern-day Exodus story is a heartwarming tale of the love of one man for Ethiopian Jewry as he devoted himself to their struggle to go up to Jerusalem.