HOME
|
The Official Gefen Publishing House Website -
One Stop Webstore for Jewish Books and Hebrew Studies Textbooks From Israel
|
Join Email
List
|
Contact
us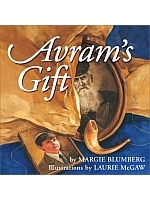 Avram's Gift
Authors:
Margie Blumberg
Laurie McGaw (Illustrator
Price: $17.95
For this special price and shipping offer, order from Gefen
Format:
Hard Cover
ISBN 10:
0962416622
ISBN 13:
9780962416620
Number of Pages:
48
Description:
Avram likes everything about his new house except the picture of his stern-looking namesake, his great-great-grandfather. He can't understand why his parents want to take the portrait out of the closet where it has been stored for years. The answer comes at Rosh Hashanah, when Avram hears his own beloved grandfather tell about Great-great-grandfather Avram in the Russian shtetl. It was he who taught Grandpa to make music with his mouth as if he were blowing the shofar (a ram's horn trumpet) used during the holiday. The tale-within-a-tale comes full circle two years later when young Avram, inspired by his grandfather's story, blows the shofar at the holiday service. The story, which introduces some interesting holiday-specific terminology, is pretty light, but the painterly artwork is quite nice, adding a real sense of history. Connections across generations also come clear in a story that's as sweet as honey used for dipping apples.