HOME
|
The Official Gefen Publishing House Website -
One Stop Webstore for Jewish Books and Hebrew Studies Textbooks From Israel
|
Join Email
List
|
Contact
us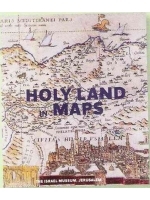 Holy Land in Maps
Author:
Ariel Tishby
Price: $35.00
Special Price: $32.95
Buy from Gefen for this special price!
Format:
Hard Cover
ISBN 10:
9652782696
ISBN 13:
9789652782694
Catalog Number:
9789652782694
Number of Pages:
168
Description:
The map of the Holy Land reflects the religious and political outlook, as well as the scientific and aesthetic sensibilities, of the mapmakers and the society in which they lived. Thus, this 2001 Israel Museum exhibition- the first to bring together maps of the Holy Land from antiquity up until modern times- traced not only the history of cartography but also the development of religious, scientific and artistic thought over the last two millennia. The accompanying publication presents cartographic depictions by Jewish, Christian and Muslim pilgrims, scholars, clergymen, and scientists. These maps are remarkable not only for the religious and geopolitical world they draw, but also for their artistry and beauty.