HOME
|
The Official Gefen Publishing House Website -
One Stop Webstore for Jewish Books and Hebrew Studies Textbooks From Israel
|
Join Email
List
|
Contact
us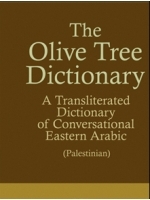 The Olive Tree Dictionary (Arabic-English)
A Transliterated Arabic-English Dictionary of Conversational Arabic
Author:
J. Elihay
Price: $110.00
Special Price: $68.00
Buy from Gefen for this special price!
Format:
Hard Cover
ISBN 10:
9657397065
ISBN 13:
9789657397060
Catalog Number:
D-982-2 / g706
Number of Pages:
784
Year Published:
2007
Description:
This is the most up-to-date dictionary of Palestinian colloquial Arabic.
The Olive Tree Dictionary translates from Arabic to English and contains an English Arabic Index.
The Dictionary contains 784 pages 9,000 entries, 17,000 phrases and an index of 14,000 English words.
The Olive Tree Dictionary helps English speakers to unlock the beauty and mystery of the Arabic language. Until the creation of this unique publication, the challenge of mastering Arabic script has prevented many from communicating with native Arabic speakers. Utilizing an inimitable and innovative method, Arabic words are organized phonetically according to their English verbalizations. Whether your purpose is work or leisure, all entries in the dictionary are fully transliterated and easy-to-read and to use. Each item contains a modern up-to-date translation that includes at least one sentence demonstrating its correct pronunciation and usage.