HOME
|
The Official Gefen Publishing House Website -
One Stop Webstore for Jewish Books and Hebrew Studies Textbooks From Israel
|
Join Email
List
|
Contact
us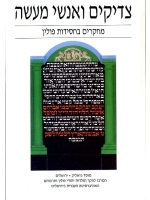 Tsadikim Ve-Anshe Maaseh: Mehkarim Ba-Hasidut Polin
(Hebrew Edition)
Authors:
Y. Bertel
R. Elior
H. Shamrok
Price: $40.00
Buy from Gefen for this special price!
Format:
Paperback
ISBN 10:
9653426184
Catalog Number:
9653426184
Number of Pages:
397
Description:
A collection of articles looking at the Chassidut of Poland.
From the time of its founding in the 18th century and right up to the time of the Holocaust, the book includes the analysis of core issues in the Chassidic movement and its coming to be, including the spiritual world and the influence of literature and history on the Chassidic movement throughout those times.
Researchers show how the Chassidic movement in Poland differentiated from the other Chassidic sects throughout Eastern Europe. This is shown as a result of the unique Ethnic-Culture which served as the framework in which Polish Chassidut was created and then later acted.