HOME
|
The Official Gefen Publishing House Website -
One Stop Webstore for Jewish Books and Hebrew Studies Textbooks From Israel
|
Join Email
List
|
Contact
us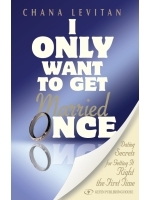 Dating Advice From Jerusalem Relationship Coach
I Only Want to get Married Once
Dating Advice by Jerusalem Dating Coach
US Availability: Available Now
International Availability (ships from Israel): Available Now
Author:
Chana Levitan
Publisher: Gefen Publishing House
Price: $12.95
Special Price: $12.10
Ships Free to Israel!
Eligible for free shipping to Israel through Monday, June 10, 2013. Minimum order: $26.00
Ships Free to United States!
Eligible for free shipping to United States through Monday, June 10, 2013. Minimum order: $28.00
Format:
Paperback
ISBN 10:
9652294985
ISBN 13:
9789652294982
Catalog Number:
9789652294982
Number of Pages:
112
Year Published:
2010

The above link redirects you to Israelbooks.com
Why Order From Israelbooks?
To save on shipping!
Israelbooks ships to US customers from Springfield, NJ.
Everywhere else, including Israel, we ship from Israel!
Are you ordering from Israel?
If so, you are charged the retail Shekel price (VAT included) if this is less than US Dollar price displayed!
Ebook editions available from these retailers
Description:
For 22 years, Chana Levitan has been educating, mentoring, and enlightening people about how to find real potential in their relationships. Her classes on the topic are standing-room only.
With this book, she is finally sharing her knowledge with a bigger audience. You'll find a smart, clear relationship guide with 10 essential questions that need to be asked before – and during – the dating process in order to spot long-term potential. Filled with real-life anecdotes and insightful dating advice, these chapters will help you better understand yourself and what you really need to succeed in building a loving marriage.
There is no rule that heartbreak must be a prerequisite for good judgment!
I Only Want to Get Married Once will help you get it right the first time and gain the confidence to steer through the decision-making process of dating.
Reviews:
"Chana Levitan's book is better than a marriage counselor…. A must-read for every single person, whether you are dating, divorced or just dreaming of marriage. Do it right the first time and you won't need a do-over."

Jennifer M. Granholm, Governor of Michigan
"Indispensable tools [for] a marriage that will withstand the hurricane-force winds of today's culture. 'Must' reading for young people, older people, dating couples and married couples, parents, in-laws, clergy and therapists…."
Dr. Abraham Twerski,
author; former clinical director,
Department of Psychiatry, St. Francis Hospital, Pittsburgh
"Brings remarkable clarity to the mystifying world of love and marriage…. I have no doubt that reading this important book and answering its critical and challenging '10 Questions' will save many from a painful divorce."

Andy Meisner,
Treasurer, Oakland County,
Michigan; former Assistant Democratic Leader, Michigan House of Representatives
"A treasure trove of invaluable information on how to 'get it right the first time.' …The discussion of the difference between infatuation and love is alone worth the price of the book…. Read this book and save yourself from the heartache of getting it wrong over and over again."
Dr. Judith Mishell,
clinical psychologist, co-author of Beyond Your Ego