HOME
|
The Official Gefen Publishing House Website -
One Stop Webstore for Jewish Books and Hebrew Studies Textbooks From Israel
|
Join Email
List
|
Contact
us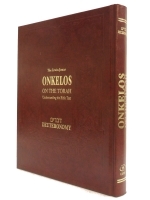 Onkelos on the Torah Deuteronomy
Understanding the Bible Text
Authors:
Israel Drazin
Stanley M. Wagner
Price: $40.00
Special Price: $32.00
For this special price and shipping offer, order from Gefen
Format:
Hard Cover
ISBN 10:
965229473X
ISBN 13:
9789652294739
Catalog Number:
g473n
Number of Pages:
360
Year Published:
2011
Description:
The Book of Deuteronomy, the fifth of the five- volume set contains and English translation of Targum Onkelos, Commentary, Appendix, Onkelos Highlights, Beyond the Text and translation of the Haphtarot from the Aramaic Targumim with Introduction
Now it is possible to discover the uniqueness and importance of the Targum, which remains the most popular translation of the Pentateuch in Jewish history. Contains a new English translation of Onkelos, with a popular commentary and scholarly appendix. Everyone who loves the Bible will want to own this set.