HOME
|
The Official Gefen Publishing House Website -
One Stop Webstore for Jewish Books and Hebrew Studies Textbooks From Israel
|
Join Email
List
|
Contact
us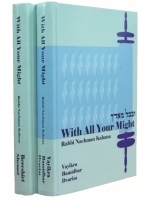 With All Your Might (two volume set)

The Torah of Eretz Yisrael in the Weekly Parashah
Author:
Nachman Kahana
Price: $50.00
Special Price: $42.95
For this special price and shipping offer, order from Gefen
Format:
Hard Cover
ISBN 10:
9655554473
ISBN 13:
9789655554472
Catalog Number:
9789655554472
Number of Pages:
922
Year Published:
2009
Description:
This two volume set covers all five books of the Torah. It is a commentary that highlights the the value of Eretz Yisrael (The Land of Israel). Volume One contains; Bereshiet (Genesis), and Shemot (Exodus). Volume two contains Vayikra (Leviticus), Bamidbar (Numbers) and Devarim (Deuteronomy).
Reviews:
Rabbi Kahana's message is presented through the medium of beautiful and brilliant Torah insights on Parshat Hashavua, that are ofttimes simply startling in their depth and creativity. We are the generation that has merited to be the beneficiaries of Hashem's great gift to His people Medinat Yisrael. Rabbi Kahana calls on Jews everywhere to rise to the challenge
Rabbi Dr. Sholom Gold, shlita
Founding Rabbi Kehilat Zichron Yoseph, Har Nof Dean Avrom Silver Jerusalem College for Adults