HOME
|
The Official Gefen Publishing House Website -
One Stop Webstore for Jewish Books and Hebrew Studies Textbooks From Israel
|
Join Email
List
|
Contact
us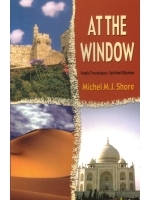 At the Window


Author:
Michel Shore
Publisher: Gefen Publishing House
Price: $10.95
Buy from Gefen for this special price!
Format:
Paperback
ISBN 10:
965-229-281-8
Catalog Number:
281-8
Number of Pages:
80
Year Published:
2002
Description:
Acclaimed poet, Michel Shore, journeys a great distance, both physically and spiritually, in his compilation of poetry, entitled At the Window. Written over a period of a month, at the turn of the millennium, in Jerusalem, Sinai and India, Shore pieces together his ancestral history and spiritual legacy, gently sweeping readers along with him, on his meditative odyssey.