HOME
|
The Official Gefen Publishing House Website -
One Stop Webstore for Jewish Books and Hebrew Studies Textbooks From Israel
|
Join Email
List
|
Contact
us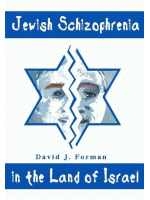 Jewish Schizophrenia in the Land of Israel
Author:
David J. Forman
Publisher: Gefen Publishing House
Price: $19.95
Buy from Gefen for this special price!
Format:
Hard Cover
ISBN 10:
9652292613
Catalog Number:
261-3
Number of Pages:
256
Description:
Carefully using the colloquial understanding of "schizophrenia", this intriguing book examines the inconsistencies, paradoxes, and divisiveness that characterizes Israeli society. As a father, Israeli-Reform rabbi, IDF Deputy Commander, and human rights activist, Forman's personal insights – combined with his sense of humor - offer much to think about.