HOME
|
The Official Gefen Publishing House Website -
One Stop Webstore for Jewish Books and Hebrew Studies Textbooks From Israel
|
Join Email
List
|
Contact
us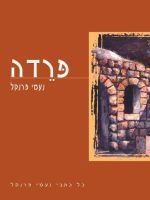 Preda
Author:
Naomi Frenkel
Publisher: Gefen Publishing House
Price: $24.95
For this special price and shipping offer, order from Gefen
ISBN 10:
9652293016
Catalog Number:
301-6
Number of Pages:
448
Description:
Preda is the story of two very different friends. While Malchiel is a member of the old community of Eretz Israel, survivor of the 1939 pogroms in Hebron, Yoske, his commander in the Palmach, is a beautiful, brave witty Israeli born. Malchiel represents the old Jew of the old settlement, and Yoske represents the new Israeli of modern times. The tension built between the two is a miniature reflection of the new Jewish history.