HOME
|
The Official Gefen Publishing House Website -
One Stop Webstore for Jewish Books and Hebrew Studies Textbooks From Israel
|
Join Email
List
|
Contact
us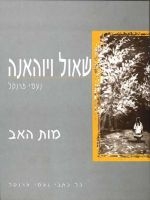 Shaul and Yohanna
Volume II: The Fathers' death
Author:
Naomi Frenkel
Publisher: Gefen Publishing House
Price: $18.95
Buy from Gefen for this special price!
Format:
Paperback
ISBN 10:
9652292258
Catalog Number:
225-8
Number of Pages:
366
Year Published:
1999
Description:
The Holocaust and its lessons from the point of view of a Jewish-Israeli author. The book tells the story of two families: Yohanna Levie, the father of a wealthy assimilating family, and Shaul – a worker in Berlin. The first volume starts with "The Fathers", the second continues the story with "The Fathers' Death" and the third volume ends the story with "Sons" – where the second generation sobers up and discovers its new national identity within the Zionist movement.