HOME
|
The Official Gefen Publishing House Website -
One Stop Webstore for Jewish Books and Hebrew Studies Textbooks From Israel
|
Join Email
List
|
Contact
us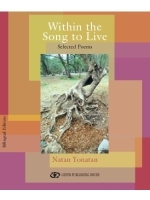 Within the Song to Live
Selected Poems (including CD)
Author:
Natan Yonatan
Publisher: Gefen Publishing House
Price: $22.95
Buy from Gefen for this special price!
Format:
Hard Cover
ISBN 10:
9652293458
ISBN 13:
9789652293459
Number of Pages:
160
Year Published:
2005
Description:
On March 12, 2004, at the age of eighty, the beloved poet Natan Yonatan passed away. One of the most exclusive and most significant voices of modern Hebrew poetry died out. Before his death, Natan Yonatan started working on his book Within The Song To Live, a bi-lingual, Hebrew- English edition, which Gefen Publishing House is proud to publish. The book is a representative selection of poems chosen by the poet in order to introduce his poetry to English speaking readers.
The poetry is read, sung and quoted in Israel at times of celebrations and memorials and it enjoys an incomparable popularity.
The poet opted for a bilingual edition of his work for the sake of speakers and lovers of Hebrew who live in English speaking countries. He entrusted the work of translating his poetry to Ms. Janice Rebibo, who began this task as far back as 1997.
The book includes a CD with a selection of Natan Yonatan's composed poems that have been turned into popular folk songs. The songs are performed by The Brothers and The Sisters, one of Israel's top folk groups. The CD includes eleven songs, three of which are performed both in English and in Hebrew.