HOME
|
The Official Gefen Publishing House Website -
One Stop Webstore for Jewish Books and Hebrew Studies Textbooks From Israel
|
Join Email
List
|
Contact
us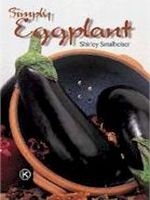 Simply Eggplant


Author:
Shirley Smalheiser
Publisher: Gefen Publishing House
Price: $19.95
Buy from Gefen for this special price!
Format:
Hard Cover
ISBN 10:
9652292044
ISBN 13:
9789652292049
Number of Pages:
200
Year Published:
2000
Description:
Written by a self-described "eggplant junkie," this kosher cookbook provides a delicious range of recipes for this otherwise mysterious vegetable. Beyond the usual dips and salads, there are recipes for every occasion – including desserts!
This is not a vegetarian coookbook. Among over 100 recipes, It includes some meat recipes.
This is a Kosher cookbook, which means that each recipe conforms to the jewish dietary laws. However, culturally, this cookbook has a strongly international flavor including. In addition to the jewish dish 'Latkes' Simply Eggplant includes recipes for everything from Baba Ghanoush, Chinese Sesame Eggpant Salad and Calzones to Mock Shrimp, Mexican Stew and Buddhist Mock Chicken, just to name a few.