HOME
|
The Official Gefen Publishing House Website -
One Stop Webstore for Jewish Books and Hebrew Studies Textbooks From Israel
|
Join Email
List
|
Contact
us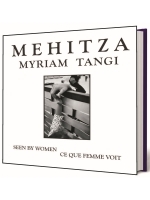 Mehitza
Seen by Women
Author:
Myriam Tangi
Publisher: Gefen Publishing House
Price: $40.00
Special Price: $34.00
Buy from Gefen for this special price!
ISBN 10:
9652298999
ISBN 13:
9789652298997
Catalog Number:
9789652298997 / g899 / 899-7
Number of Pages:
99
Year Published:
2016
Description:
Artist Myriam Tangi set off on a quest: to explore the psychological, spiritual, and emotional facets of the mehitza. This physical structure, separating between men and women during Jewish prayer services, has elicited much debate, but its profound influence on the prayers and thoughts of the women behind it demands deeper understanding. How does the separation between men and women impact on their experiences of prayer?
In what way does distance from the synagogue center influence women, both within the synagogue structure and beyond? More broadly, Mehitza questions the male and female territories in the Jewish world.
Myriamís photographs offer an artistic vision, a window into the feelings and experiences of the women standing behind. In this book, Myriamís exquisite work is interspersed among essays by leading Jewish scholars, which together provide a fascinating analysis of the concept of separation in Judaism. Mehitza: Seen by Women is an artistic, spiritual, and intellectual journey that unveils the complexity of contemporary Judaism.