HOME
|
The Official Gefen Publishing House Website -
One Stop Webstore for Jewish Books and Hebrew Studies Textbooks From Israel
|
Join Email
List
|
Contact
us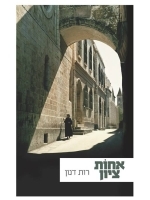 Sister of Zion (Hebrew)

Achot Tzion
Author:
Ruth Danon
Price: $22.95
Buy from Gefen for this special price!
Catalog Number:
D-6688
Number of Pages:
176
Year Published:
2014
Description:
This is the original Hebrew edition of Sister of Zion, Achot Tzion.
A chance encounter in a convent in the Old City of Jerusalem at the height of the Six-Day War reveals the thrilling biography of a young Jewish girl brought into the arms of the Catholic faith. Forced to flee Bulgaria during the Second World War, Regine Canetti and her family boarded an illegal immigrant ship headed for Eretz Israel. But when the boat sank in a storm, Regine lost half her family. Alone in a strange land, her choices steered her toward her path in life, to new encounters and travels, and ultimately to an ancient-new religion. The life story of Sister Regine highlights the tragedy of the White Paper restrictions on Jewish immigration during the British mandate, the relations between the Church and the Jews following the Second Vatican Convention, and the experience of life in Israel during some of its critical moments in history.