HOME
|
The Official Gefen Publishing House Website -
One Stop Webstore for Jewish Books and Hebrew Studies Textbooks From Israel
|
Join Email
List
|
Contact
us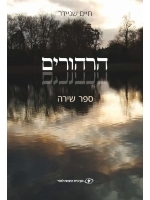 Hirhurim: Sefer Shira - Reflections (Hebrew)
Hirhurim: Sefer Shira - Reflections: Book of Poetry (Hebrew)
Author:
Haim Schneider
Publisher: Gefen Publishing House
Price: $12.95
Buy from Gefen for this special price!
Format:
Paperback
ISBN 10:
9652298700
ISBN 13:
9789652298706
Description:
The meaning of life, the greatness of man, the frailty of existence...
Reflections gives fresh expression to eternal questions. As the poems weave between the mundane and the abstract, the reader joins with the author in reflecting upon the human condition and though the prognosis may be dire, we are never allowed to lose spirit.
Yet as the author concludes: One of the few good reasons to want to go on existing is the curiosity, the pure curiosity to learn how all this will end: with a bang or with a whimper.