HOME
|
The Official Gefen Publishing House Website -
One Stop Webstore for Jewish Books and Hebrew Studies Textbooks From Israel
|
Join Email
List
|
Contact
us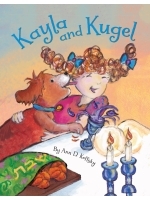 Kayla and Kugel
Author:
Ann D Koffsky
Price: $9.95
Special Price: $9.00
Buy from Gefen for this special price!
Format:
Paperback
ISBN 10:
1681155028
ISBN 13:
9781681155029
Catalog Number:
d502az / D-5029
Number of Pages:
24
Year Published:
2015
Description:
Kayla's dog Kugel is a big help as Kayla sets the table for Shabbat . . . despite a few paw prints on the tablecloth, a missing Kiddush cup, and other mishaps. When they're done, even Kugel knows that a beautiful Shabbat needs one more thing family!
An author note at the end explains the values of shalom bayit (creating peace in the home), and hiddur mitzvah (using beauty to enhance a religious practice), and provides discussion prompts for readers.