HOME
|
The Official Gefen Publishing House Website -
One Stop Webstore for Jewish Books and Hebrew Studies Textbooks From Israel
|
Join Email
List
|
Contact
us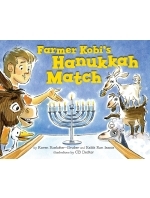 Farmer Kobi's Hanukkah Match
Authors:
C.B. Decker (Illustrator)
Ron Isaacs
Karen Rostoker-Gruber
Price: $17.95
Special Price: $14.00
For this special price and shipping offer, order from Gefen
Format:
Hard Cover
ISBN 10:
168115501X
ISBN 13:
9781681155012
Catalog Number:
d501az / D-5012
Number of Pages:
32
Year Published:
2015
Description:
Come join Farmer Kobi and his animals for a hilarious Hanukkah dinner. Kobi's well-mannered goats, donkey, and sheep know just how to play host, and they give Polly, Kobi's Hanukkah guest, a gracious welcome. But when Polly isn't sure animals belong in a house, what will happen next? Find out with laugh-out-loud pictures and puns that are sure to entertain all readers. As donkey says: Hee-Haw-Yahoo!