HOME
|
The Official Gefen Publishing House Website -
One Stop Webstore for Jewish Books and Hebrew Studies Textbooks From Israel
|
Join Email
List
|
Contact
us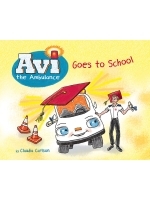 Avi the Ambulance Goes to School
Author:
Claudia Carlson
Publisher: Gefen Publishing House
Price: $9.95
Buy from Gefen for this special price!
Format:
Paperback
ISBN 10:
1681155036
ISBN 13:
9781681155036
Catalog Number:
d503z / D-5036
Number of Pages:
32
Year Published:
2015
Description:
Meet Avi the Ambulance! Avi dreams of being a life-saving ambulance just like his Mom, Dad, and big sister Maya. So what's s a young, ambitious ambulance to do? Go to school of course! Avi learns all sort of important skills from the ambulance teacher at school: How to zig-and-zag, zoom-and-stop, and of course how to treat patients well and drive gently. This first book of the new Avi the Ambulance series will charm young readers, and give them a taste of Israel and the Jewish value of helping others.