HOME
|
The Official Gefen Publishing House Website -
One Stop Webstore for Jewish Books and Hebrew Studies Textbooks From Israel
|
Join Email
List
|
Contact
us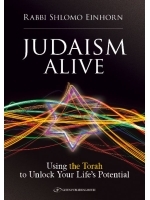 Price in Israel NIS 65
Judaism Alive
Using the Torah to Unlock Your Life's Potential
Author:
Shlomo Einhorn
Publisher: Gefen Publishing House
Price: $18.00
Special Price: $16.00
Buy from Gefen for this special price!
ISBN 10:
965229652X
ISBN 13:
9789652296528
Catalog Number:
g652 / 652-8
Number of Pages:
224
Year Published:
2015
Description:
While the genesis of Judaism Alive is based on the tenants and teachings of Judaism, Rabbi Shlomo Einhorn's introspective, overarching book serves as a guide for people of all walks of life seeking to be more productive and successful in their professional life while incorporating spirituality into their respective quest.
Along with passages from the Torah and quotes from noted Jewish scholars and leaders, Rabbi Einhorn incorporates thoughts and experiences from popular culture by citing the likes of the rock group Queen, Muhammad Ali and inspirational speaker and author Tony Robbins, among countless others.
The book is divided into three sections:
From Darkness to Light
Building Your Empire
Maximizing Your Efficiency
.
Within these three sections, three productivity themes are covered in detail: recovery, building and sustaining.
With a wit and charm honed from his varied experiences as a rabbi, lecturer and teacher, Rabbi Einhorn calls upon the ancient Jewish sources and bridges these teachings with modern sources to guide readers to living a better, more fulfilled life. He is a firm believer that small changes can produce magnificent results and can change the trajectory of our lives.
Judaism Alive is written from personal experience. When Rabbi Einhorn arrived at West Side Institutional Synagogue, located on Manhattan's upper west side, the congregation had roughly six members. He looked at this not as a problem but an exciting opportunity. Within four years, he grew the congregation to more than three hundred members, most of whom are young, successful professionals ages 24 to 40. As a result of this success, he has been asked by synagogues across the country to serve as a consultant to affect the same positive change. He accomplishes these goals by following the same productivity lessons covered in Judaism Alive.
In January 2011, Rabbi Einhorn welcomed Rock and Roll Hall of Famer Roger Daltrey, the legendary front man of The Who, to a Shabbaton at the West Side Institutional Synagogue. The "Tommy" singer spoke to the congregation about how becoming involved in charity – being selflessly productive – positively impacted his life and the lives of those he sought out to help. Ellen Foley, who gained fame as the female lead singer in the classic Meat Loaf song "Paradise By The Dashboard Light," Elan Atias of Bob Marley and the Wailers and "Jewish gospel" singer Joshua Nelson also made appearances.
Judaism Alive makes Judaism, and more importantly, spirituality, relevant to a younger demographic. The book teaches the reader to return to the basic sources, the ancient texts, and explore the paths the leading to greater life satisfaction. Rabbi Einhorn contends that these ancient spiritual teachings are eternal messages.