HOME
|
The Official Gefen Publishing House Website -
One Stop Webstore for Jewish Books and Hebrew Studies Textbooks From Israel
|
Join Email
List
|
Contact
us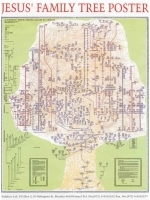 Jesusí Family Tree Poster
Price: $16.00
Special Price: $12.00
Buy from Gefen for this special price!
Format:
Paperback
Catalog Number:
43812-1
Description:
This attractive poster traces lineages from Jesus Christ all the way back to Adam and Eve! A timeline even helps associate specific individuals with specific events in Biblical history. This poster has more than 1000 names and 100 scripture references. Arranged in a colorful family tree, this unique educational tool is a must have for anyone interested in religious or Bible study.
Size: 27x38 (70 x 100 cm) on color-coded poster paper.