HOME
|
The Official Gefen Publishing House Website -
One Stop Webstore for Jewish Books and Hebrew Studies Textbooks From Israel
|
Join Email
List
|
Contact
us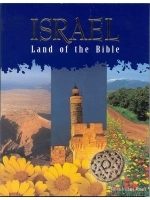 Israel Land of the Bible
Author:
Miriam Feinberg Vamosh
Price: $19.99
Buy from Gefen for this special price!
ISBN 10:
965280102X
Number of Pages:
200
Description:
A fascinating new book illustrated with hundreds of superb pictures by Israelís leading photographers and lively, interesting text. Includes an introduction to the unique history of the Land of the Bible. From the city of Jerusalem, with all its holy sites, through the varied landscape of this exciting country, the book takes its readers on a guided tour of the Dead Sea area, the Galilee, the Coastal Plain and Negev desert to Eilat, describing their place in the Bible and their history to modern times.