HOME
|
The Official Gefen Publishing House Website -
One Stop Webstore for Jewish Books and Hebrew Studies Textbooks From Israel
|
Join Email
List
|
Contact
us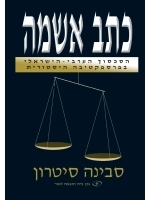 The Indictment (Hebrew)


Ketav Ashma
Author:
Sabina Citron
Price: $24.95
Buy from Gefen for this special price!
Format:
Hard Cover
ISBN 10:
9652293946
ISBN 13:
9789652293947
Catalog Number:
394-7
Number of Pages:
300
Year Published:
2007
Description:
This is the Hebrew translation of 'The Indictment,' by Sabina Citron.
Crucial to understanding the situation in the Middle East is a grasp of the nature of the conflict, as well as its historical roots. The Indictment shows how the Arab war against Israel has taken shape as an expertly waged propaganda war, and how latent anti-Semitism contributes to the world's acceptance of thinly veiled lies. Drawing on documented events and news sources, Auschwitz-survivor Sabina Citron takes a fearless look at the roots of Christian anti-Semitism and how it creates a receptive audience for the Arab propaganda war on Israel.