HOME
|
The Official Gefen Publishing House Website -
One Stop Webstore for Jewish Books and Hebrew Studies Textbooks From Israel
|
Join Email
List
|
Contact
us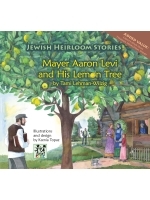 Mayer Aaron Levi and His Lemon Tree
Author:
Tami Lehman-Wilzig
Publisher: Gefen Publishing House
Price: $12.95
Buy from Gefen for this special price!
Format:
Hard Cover
ISBN 10:
9652293695
Catalog Number:
369-5
Number of Pages:
32
Year Published:
2007
Description:
For ages 6-10
Mayer Aaron Levi lives in a small village. Like his fellow Jews, Mayer Aaron studies Torah and goes to the synagogue three times a day. Unlike everybody else, he also owns a lemon tree. When the lemons are ripe his wife Raizel brews her special lemonade, chills it and puts it in jars so that Mayer Aaron can make extra money for the family by selling it in the town square. Even though Raizel is very possessive about the lemons, Mayer Aaron realizes that they have more than enough. While he finds a way to secretly share the extra lemons with the village's poor people, Raizel thinks a thief is stealing them. The plot thickens as Raizel sits outside guarding the family property, only to find that her husband has a lesson he wants to hand down from generation to generation.
Reviews:
Lemons may be known for their tartness, but here's a case where lemons are
sweet, indeed. "Mayer Aaron Levi and His Lemon Tree," a story within a story, conveys the concept of tzedakah. Perfect for young children, the endearing book by Israeli author Tami Lehman-Wilzig teaches an important lesson without ever sounding preachy.
It starts off on a friendly note, picturing a kid wearing a baseball cap and sneakers, sitting in front of his house, his puppy by his side. He holds up a potted plant. "My name is Joshua," he says. "I've just come back from my grandparents' house. Grandpa gave my dad a black iron pot filled with soil and a small tree trunk … It's a thick branch chopped off the lemon tree that stood in a large vat in my great-great grandfather's front yard over 70 years ago. There's a story behind this …"
He tells it the way his grandfather told him.
Thus we meet Mayer Aaron Levi and his wife, Raizel. They live in a small village where the homes look alike and the people have very little money. The men study Torah and go to synagogue three times a day. The women work in the house. The children play outside only after completing their studies and household chores.
Mayer Aaron Levi treats his lemon tree with tender loving care. It grows in a vat in the front yard, but in the winter he brings the tree inside, setting it down near the living room window and by the fireplace, where it will receive sunlight and warmth. In the spring, he returns the tree outside.
As if to thank the caring Levi, the tree is bountiful. It produces enough lemons that Raizel can make tasty lemonade, which she sells to eager villagers. She too esteems the lemon tree, because the income it generates enables her to purchase clothing for her children.
So when Raizel discovers that lemons are mysteriously disappearing, she swings into action. Determined to catch the thief, she plops a chair outside and sits by the front gate — morning, noon and night — for three days. Not a soul shows up, and she is convinced she has nipped this thievery in the bud.
But she hasn't solved the mystery, and is ultimately surprised to learn that her husband has a hand in the missing fruit.
There's a worthwhile lesson to be learned from this parable, which is nicely complemented by the artwork. Artist Ksenia Topaz, who emigrated from Moscow to Israel in 1991, captures Jewish village and family life in her richly detailed, evocative illustrations.
"Mayer Aaron Levi and His Lemon Tree" kicks off a new series conceived and written by Lehman-Wilzig for Gefen publishers. Called Jewish Heirloom Stories, each original folktale revolves around a Jewish value that is designed to bond multiple generations. Each concludes with an activity calling for children to sit down with their parents and grandparents to write their own story on a similar theme.
If this is an indication of what's to come, bring on the others.
Liz Harris
The Jewish News Weekly of Northern California
Friday September 14, 2007