HOME
|
The Official Gefen Publishing House Website -
One Stop Webstore for Jewish Books and Hebrew Studies Textbooks From Israel
|
Join Email
List
|
Contact
us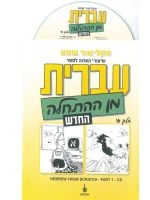 Hebrew from Scratch. Part I. mp3 CD
Authors:
Shlomit Chayat
Hilla Kobliner
Price: $40.00
Special Price: $28.00
For this special price and shipping offer, order from Gefen
ISBN 10:
B000KCI8NO
ISBN 13:
0007500129668
Catalog Number:
0007500129668 D-405 / d966
Description:
This is the audio component of Hebrew from Scratch Part 1 in MP3 CD. It's all on one CD.
You can get this
together with the book
. When available, the set us usually less expensive than buying the book and the text seperately.