HOME
|
The Official Gefen Publishing House Website -
One Stop Webstore for Jewish Books and Hebrew Studies Textbooks From Israel
|
Join Email
List
|
Contact
us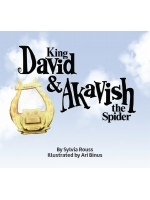 David and Akavish the Spider
David and Akavish the Spider
Authors:
Ari Binus
Sylvia Rouss
Publisher: Gefen Publishing House
Price: $9.95
Buy from Gefen for this special price!
Format:
Paperback
ISBN 10:
1681155044
ISBN 13:
9781681155043
Catalog Number:
9781681155043
Year Published:
2014
Description:
David and Akavish the Spider. To listen to the song
click here!
When a young shepherd boy aims a stone at a spider's web, he little dreams that it is the beginning of a lasting friendship – or indeed that the small creature will one day save his life. Akavish, the Spider, makes a promise to a young boy and keeps it when that boy has grown to be a man. Fleeing King Saul's soldiers, David hides in a cave, exhausted and spent. Quickly setting to work, the spider weaves a web that covers the entrance, and the soldiers run past, realising that the delicate strands would be broken if someone had hidden inside. But what David really sees is that pure strength doesn't always win the day, and that each of God's creatures has its value. By using your wits and your oen special gifts, anything is possible! It's a lesson for a king, and one that the future King of Israel will never forget.
This moving and charmingly told story is based on the Biblical tale we know so well, and re-told by one of America's most well-loved children's authors. Beautifully and skilfully complemented by the contemporary work of a new illustrator to watch, it vividly depicts the splendour and simplicity of a long-lost world, appealing to both children – and the adults who read it to them – alike.