HOME
|
The Official Gefen Publishing House Website -
One Stop Webstore for Jewish Books and Hebrew Studies Textbooks From Israel
|
Join Email
List
|
Contact
us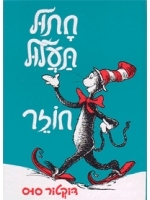 Cat in the Hat Comes Back (Hebrew)
Chatul Taalul Chozer
Author:
Dr. Seuss
Price: $28.00
Special Price: $20.00
For this special price and shipping offer, order from Gefen
Format:
Hard Cover
ISBN 10:
9652294675
ISBN 13:
978-9652294678
Catalog Number:
D-722
Number of Pages:
64
Year Published:
1959
Description:
This time, Sally and her brother are stuck shoveling snow, but the Cat in the Hat has other ideas. This book is available at this website in Hebrew. This book is great for anyone beginning to learn Hebrew.