HOME
|
The Official Gefen Publishing House Website -
One Stop Webstore for Jewish Books and Hebrew Studies Textbooks From Israel
|
Join Email
List
|
Contact
us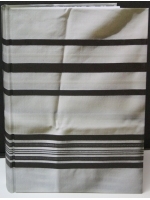 And Every Single One Was Someone (Regular Edition)
Author:
Phil Chernofsky
Publisher: Gefen Publishing House
Price: $80.00
Format:
Hard Cover
ISBN 10:
9652295914
ISBN 13:
9789652295910
Catalog Number:
9789652295910
Number of Pages:
1250
Year Published:
2013
Description:
As a math and Jewish studies teacher in a Jewish day school, Chernofsky wanted a different and meaningful way for his students to relate to the Holocaust.
Order the tallis-bound edition
here
From there evolved this book that has just one word, six million times JEW. What would a book of six million Jews look like? This is a volume meant for library and institution presentations on the Holocaust, a daring attempt to give some small sense of the overwhelming number - six million.