HOME
|
The Official Gefen Publishing House Website -
One Stop Webstore for Jewish Books and Hebrew Studies Textbooks From Israel
|
Join Email
List
|
Contact
us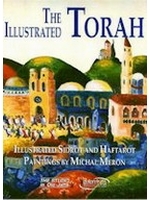 The Illustrated Torah


Illustrated Sidrot & Haftarot
Author:
Michal Meron
Publisher: Gefen Publishing House
Price: $60.00
Special Price: $52.95
For this special price and shipping offer, order from Gefen
Format:
Hard Cover
ISBN 10:
9657157005
Catalog Number:
700-5
Number of Pages:
248
Year Published:
2000
Description:
"The Torah is a Tree of Life to those who hold onto it firmly." (Prayer Book)
The perfect gift for every Jewish celebration! This Chumash (Five Books of Moses) is fully illustrated, colorful and attractive, and includes the weekly Torah portions and the Haftarot readings (weekly readings from the Writings and the Prophets). A family treasure for generations to come.