HOME
|
The Official Gefen Publishing House Website -
One Stop Webstore for Jewish Books and Hebrew Studies Textbooks From Israel
|
Join Email
List
|
Contact
us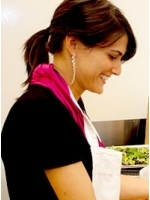 Kim comes from a huge family. Her Moroccan-born mother was raised in Israel, along with eight siblings. Spending childhood summers in Israel with her extended family, Kim learned to cook by eating, and by participating in family feasts. Hands-on experience with fresh and international ingredients gave Kim an edge when she began her studies at the prestigious Institute of Culinary Education in Manhattan, where she excelled in their Professional Culinary Program. After stints at Food & Wine and Chile Pepper magazines, where she developed simple but innovative recipes for their subscribers to try at home, word of Kim's skill at making gourmet Kosher dishes from simple and elegant ingredients began to spread.
Before long, she found herself working as a private chef for some of New York City's most discerning eaters, and teaching private cooking classes out of her own kitchen. Her culinary style, much like her life, is a study in Modern Orthodoxy: her kitchen is Kosher, and very much in line with her upbringing and heritage; yet, she is young, and her perspective is fresh and new.
She's become known for her healthy, seasonal, and hearty salads made from locally-grown produce—not necessarily the first thing that comes to mind when thinking of Kosher cuisine.
Kim continues to study and teach cooking in equal measure. Through word-of-mouth, her classes have continued to grow in size and frequency over the years, and she keeps on top of new techniques to share with her clientele by attending classes and seminars herself. For Kim, food is tangible and social—the effort you put into it comes back to you many times over, in the form of friendships, health, flattery, and fun. The feedback she loves getting most from her client is that they were not only inspired to try her recipes at home, but to make some changes to them—it's proof to her that she's right: anyone can cook, and everyone should cook.
www.kimkushnercuisine.com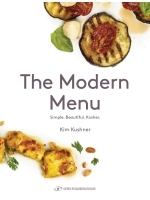 The Modern Menu
Price: $35.00 $19.95
Simple Beautiful Kosher
For a dynamic presentation of the inside page...
More
The Modern Menu
Price: $21.95 $16.00
Simple Beautiful Kosher
For a dynamic presentation of the inside page...
More