HOME
|
The Official Gefen Publishing House Website -
One Stop Webstore for Jewish Books and Hebrew Studies Textbooks From Israel
|
Join Email
List
|
Contact
us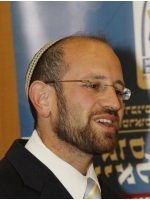 Rabbi Yehoshua C. Grunstein, the former Rabbi of the Beth Israel Synagogue in Halifax, Nova Scotia, Canada is a native of Cedarhurst, Long Island, from where he made Aliyah when he was 11 years old. Rabbi Grunstein studied at Yeshivat Har Etzion for 8 years as part of both the Hesder program and it's Kollel. Today, he is a reserve solider in the Military Rabbinate of the I.D.F.
Rabbi Grunstein received his ordination from the Chief Rabbinate of Israel, as well as Rabbi Shlomo Riskin. He also completed a B.A. in Education from the Herzog College in 2002. For more than four years Rabbi Grunstein served as a teacher of Talmud for foreign students at Yeshivat Har Etzion, as well as serving at a Judaic High-school teacher at Ulpanat Shavei Rachel, in Neve Daniel.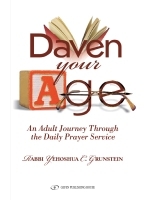 Daven Your Age
Price: $18.00 $15.45
An Adult Journey through the Daily Prayer Service
Jews spend endless hours of their lives in pr...
More