HOME
|
The Official Gefen Publishing House Website -
One Stop Webstore for Jewish Books and Hebrew Studies Textbooks From Israel
|
Join Email
List
|
Contact
us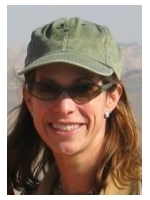 Laura Ben-David, originally from Monsey, NY, made Aliyah (immigrated to Israel) in 2002, from Boca Raton Florida with her husband and four children. They had the great fortune of planning their Aliyah for the exact time when Nefesh B'Nefesh, the well-known Aliyah organization, was planning its first flight. Thrilled to be a part of history-in-the-making, and wanting to share the experience with as many people as possible, Laura began to write up their experiences in email blogs. Her readership grew and grew, and her story grew as well. After a year in Israel, Laura realized she had more than enough material for the book that so many of her readers had requested. And so was born the book, MOVING UP: An Aliyah Journal.
Follow this @gefenPublishing author on twitter:
@LauraBenDavd