HOME
|
The Official Gefen Publishing House Website -
One Stop Webstore for Jewish Books and Hebrew Studies Textbooks From Israel
|
Join Email
List
|
Contact
us
Micha Feldmann has worked for the Jewish Agency and other organizations on immigration and absorption since 1970. Micha, who speaks Amharic fluently and knows virtually every Ethiopian family in Israel, is known as "Abba Micha" (Father Micha). He currently serves as the director of the Ethiopian department within SELAH – Israel Crisis Management Center, an organization that helps Israeli immigrants from Ethiopia and the FSU.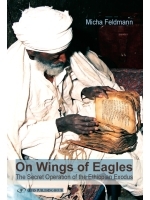 On Wings of Eagles
Price: $24.95 $19.95
The Secret Operation of the Ethiopian Exodus
Told through diary entries interspersed with ...
More