HOME
|
The Official Gefen Publishing House Website -
One Stop Webstore for Jewish Books and Hebrew Studies Textbooks From Israel
|
Join Email
List
|
Contact
us
Dr. Rochelle G. Saidel is the founder and executive director of the
Remember the Women Institute
, a not-for-profit organization based in New York City that carries out and encourages research and cultural projects that integrate women into history. Her own focus is on Jewish women, especially women during the Holocaust.
As part of her work to write
Mielec
, Poland: The Shtetl That Became a Nazi Concentration Camp, Dr. Saidel was a Research Fellow at the International Institute for Holocaust Research at Yad Vashem, Jerusalem for the fall 2006 semester.
She is also the author of
The Jewish Women of Ravensbrück Concentration Camp
(University of Wisconsin Press, 2004, 2006 in paperback), a National Jewish Book Awards finalist in the Holocaust Studies and Barbara Dobkin Women's Studies categories. The book was published in Hebrew in 2007 (Lohamei Haghetaot, distributed by Yad Vashem) and in Portuguese by University of São Paulo Press, Brazil in 2009. She is the co-editor of
Sexual Violence against Jewish Women during the Holocaust
(Brandeis University Press/University Press of New England, 2010). She is also the editor of
Fiorello's Sister: Gemma La Guardia Gluck's Story
, a new expanded edition of the memoir by the sister of beloved former New York City Mayor Fiorello La Guardia (Syracuse University Press, 2007). She has also also produced and curated museum exhibits and catalogs, such as Women of Ravensbrück: Portraits of Courage for the Florida Holocaust Museum in St. Petersburg.
Dr. Saidel is the author of
Never Too Late to Remember: The Politics Behind New York City's Holocaust Museum
(Holmes & Meier, 1996) and
The Outraged Conscience: Seekers of Justice for Nazi War Criminals in America
(SUNY Press, 1984), as well as hundreds of published articles on the Holocaust. She has written and lectured internationally on the Holocaust for more than thirty years.
Dr. Saidel is a senior researcher at the Center for the Study of Women and Gender at the University of São Paulo, Brazil. She received her PhD in Political Science from The Graduate School and University Center, CUNY, in New York City. She served for nine years as a special assistant to the Democratic leader of the New York State Senate, with responsibilities that included planning for the Museum of Jewish Heritage in New York City. She currently divides her time among Jerusalem, New York City, and São Paulo. For more information, please see
www.rememberwomen.org
.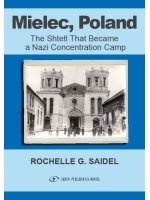 Mielec, Poland
Price:
$24.95
The Shtetl That Became a Nazi Concentration Camp
This unprecedented book about Mielec, Poland ...
More