HOME
|
The Official Gefen Publishing House Website -
One Stop Webstore for Jewish Books and Hebrew Studies Textbooks From Israel
|
Join Email
List
|
Contact
us
Rabbi David Bigman moved from Detroit, Michigan, to Israel to work the land in the spirit of the Zionist pioneers. The leadership of the Religious Kibbutz Movement, recognizing his prodigious knowledge, open mind, and moral sensitivity, quickly appointed him head of the movement's most important educational institutions. The combination of his classical Talmudic training as a student of Rav Israel Zev Gustman and Rav Aryeh Leib Bakst with Rav Bigman's intellectual curiosity and breadth makes for a fascinating approach to Torah study. In Rav Bigman's beit midrash, Rav Nachman of Bratzlav, Yeshayahu Leibowitz, Martin Luther King Jr., and David Grossman – to
name just a few – are all in dialogue. Rav Bigman's teachings have made him a beacon to those searching for a sophisticated and intellectually honest path in Torah. Rav Bigman was a founder of Midreshet Ein HaNatziv (a vanguard women's yeshiva), and currently serves as rosh yeshivah at Maale Gilboa.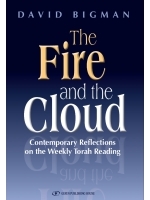 The Fire and the Cloud
Price:
$18.95
Contemporary Reflections on the Weekly Torah Reading
In this beautiful and lucid translation of th...
More