HOME
|
The Official Gefen Publishing House Website -
One Stop Webstore for Jewish Books and Hebrew Studies Textbooks From Israel
|
Join Email
List
|
Contact
us
Yisrael Medad was born in the United States in 1947 and immigrated to Israel in 1970. He serves as the Director of Information and Educational Resources at the Menachem Begin Heritage Center since 2000. He previously served as political advisor to Members of Knesset as well as Minister, and lectures on Zionist and Israel history.
Books: Peace in the Making
Topics to speak about: Zionism, Israeli politics
Website: www.myrightword.blogspot.com
Facebook: Yisrael Medad
Areas to speak in: anywhere
Are there any significant past appearances you'd like to mention? Universities in US & UK; BBC; CNN; newspaper interviews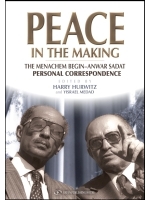 Peace in the Making
Price: $16.95 $12.00
The Menachem Begin - Anwar Sadat Personal CorrespondenceUK readers- $30.00 including S&H
Click...
More