HOME
|
The Official Gefen Publishing House Website -
One Stop Webstore for Jewish Books and Hebrew Studies Textbooks From Israel
|
Join Email
List
|
Contact
us
Naomi Samuel
is an accomplished writer and illustrator, who has published several children's books in Israel, including:
Brown Daniel
,
Desta and Me
,
What is my Name and Who am I?
,
Father Tell Me More
and
The Tree of Life
The daughter of a Holocaust survivor, author Karen Gershon, Naomi was born in England in 1962. With her mother and father, an Englishman, she moved to Jerusalem when she was five. They stayed six years before returning to England. When she was 21, after completing a degree in anthropology, Naomi returned to Israel to make it her home. She married Abren Erdani, the Ethiopian immigrant whose story is the focus of this book. Today Abren is a policeman in the Jerusalem precinct. Naomi and Abren and their beautiful sons live in Ma'ale Adumim.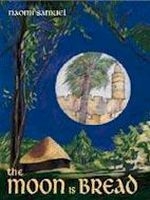 The Moon is Bread
Price:
$14.95
Samuel tells the incredible story of her husb...
More