HOME
|
The Official Gefen Publishing House Website -
One Stop Webstore for Jewish Books and Hebrew Studies Textbooks From Israel
|
Join Email
List
|
Contact
us
To hear an interview with Moshe Kapaln on Rusty Mike Radio click
here
Moshe Kaplan M.D. is a trained psychoimmunologist, using mind, body and soul integration for optimal health and healing
and a cofounder of Wellness Medical Clinics applying wellness concepts to practical reality. Following medical school with Naomi Remen ,M.D. at Stanford Medical School, he, under a grant
from the Natonal Institute of Mental Health, wrote a curriculum for medical schools to use as a model for an ideal medical system integrating professionals, paraprofessionals and lay people. He is the compiler of A Wholly Life (Targum
Press). Currently, besides being an author and an investment advisor, he is a medical director of Magen David Adom in Jerusalem where he lives with his wife Karen.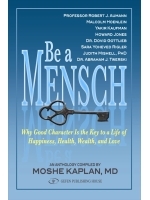 Be A Mensch
Price: $12.95 $12.20
Why Good Character Is the Key to a Life of Happiness, Health, Wealth, and LoveTable of Contents
Introduction by Sar...
More