HOME
|
The Official Gefen Publishing House Website -
One Stop Webstore for Jewish Books and Hebrew Studies Textbooks From Israel
|
Join Email
List
|
Contact
us
Harry Hurwitz
was born in Libau, Latvia, from where the family emigrated to Johannesburg, South Africa. There he became a leader in the Betar and Zionist Revisionist Organizations, and later of the South African Zionist Federation. He embarked on a career in journalism, becoming the editor of a major weekly publication, and a much sought-after broadcaster, TV commentator and public speaker.
He was a long-time staunch supporter of Menachem Begin, and when Begin was elected Prime Minister of Israel, Hurwitz and his wife, Freda, emigrated to Israel where he joined the Prime Minister's Administration as Adviser on External Information. In 1980, he was appointed Minister of Information at the Israel Embassy in Washington DC. He returned to Israel in mid-1983 to become Adviser to Prime Minister Shamir's Administration until it left office in July 1992.
Following the death of Menachem Begin in March 1992, Harry Hurwitz at once proposed the establishment of a Living Memorial to Menachem Begin on the lines of an American Presidential Library. He initiated the Menachem Begin Heritage Foundation which, under his leadership, built the Menachem Begin Heritage Center in Jerusalem on a unique site with a breath-taking view of the Old City.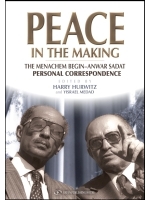 Peace in the Making
Price: $16.95 $12.00
The Menachem Begin - Anwar Sadat Personal CorrespondenceUK readers- $30.00 including S&H
Click...
More