HOME
|
The Official Gefen Publishing House Website -
One Stop Webstore for Jewish Books and Hebrew Studies Textbooks From Israel
|
Join Email
List
|
Contact
us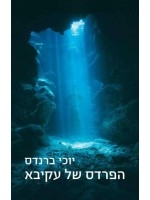 The Orchard (Hebrew)
Hapardes Shel Akiva
Author:
Yochi Brandes
Price: $26.95
Special Price: $20.00
Buy from Gefen for this special price!
Format:
Paperback
Catalog Number:
HEB F
Year Published:
2012
Description:
This is the original Hebrew edition of The Orchard by Yochi Brandes. The Orchard depicts as a modern midrash novel the life and times of Akiva Ben Yosef, the great Talmudic sage.