HOME
|
The Official Gefen Publishing House Website -
One Stop Webstore for Jewish Books and Hebrew Studies Textbooks From Israel
|
Join Email
List
|
Contact
us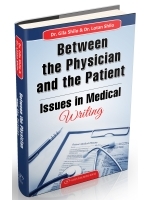 Price In Israel NIS 66
Between the Physician and Patient
Issues in Medical Writing
Authors:
Gila Shilo
Lotan Shilo
Publisher: Gefen Publishing House
Price: $19.95
Special Price: $16.95
Buy from Gefen for this special price!
Format:
Hard Cover
ISBN 10:
965229926X
ISBN 13:
9789652299260
Catalog Number:
926-0 / g926
Number of Pages:
184
Year Published:
2018
Description:
Hundreds of thousands of medical documents are generated each year to communicate vital information about patient care. Yet all too often, these documents are marred by unclear writing, poor organization, and insufficient information, risking misunderstanding, confusion, and sometimes even patient harm. This study analyzes common medical documents, including admission notes, discharge summaries, letters written by the primary care physician to specialists, letters from the specialists to other physicians, and progress notes, and presents abundant examples of the various types of mistakes found in them, together with recommendations for avoiding these errors. Clear instructions for composing coherent documents are given, with detailed examples. This book will contribute to the research of medical language, including jargon, abbreviations, text organization, relevance, repetition, grammatical mistakes, paradox, lack of consistency, and organization, as well as the rapidly evolving use of copy and paste in various disciplines. Most importantly, professionals who work with patients, including physicians, residents, interns, medical students, nurses, physiotherapists, social workers, and other personnel will learn how to improve medical communication for better patient care.