HOME
|
The Official Gefen Publishing House Website -
One Stop Webstore for Jewish Books and Hebrew Studies Textbooks From Israel
|
Join Email
List
|
Contact
us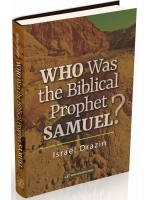 Who was the Biblical Prophet Samuel
Author:
Israel Drazin
Price: $24.95
Special Price: $19.96
Buy from Gefen for this special price!
Format:
Hard Cover
ISBN 10:
9652298956
ISBN 13:
9789652298959
Catalog Number:
g895 / 895-9
Number of Pages:
201
Year Published:
2017
Description:
This volume explores the biblical prophet Samuel as presented in the eponymous scriptural book. Rabbi Dr. Israel Drazin examines the scriptural verses dealing with Samuel and refers to traditional and scholarly sources in ways that many readers will consider unusual and insightful. His objective analysis raises challenging questions. He presents logical explanations to issues that have perplexed readers of the Bible for centuries and discloses insights that will astonish readers, such as:
Although the scriptural book of Samuel contains 1506 verses, only about 200 speak about the prophet Samuel.
The book repeatedly portrays him during his old age in an unattractive, belligerent, outspoken, and vindictive manner.
Like many of the other biblical books, Samuel shows no familiarity with the laws in the Five Books of Moses.
Despite the Torah allowing the crowning of a king, Samuel does not want to do so, because the people's demand for a king represents their rejection of Samuel's service to his people, and the service of his sons whom he hoped would carry on his legacy.
Scholars stress that it was Samuel's personal enmity to Saul, not Saul's behavior, that was the real reason why he declared so violently that Saul's kingdom would end and the monarchy transfer to another, better person not of Saul's family.
The book presents differing accounts of the same events, including the manner in which Saul becomes king, the reason Samuel tells Saul his kingdom will end, David's introduction to the history, and the slaying of Goliath.
The book of Samuel is one of the most well-liked books of the prophets and is frequently taught to children in Jewish day schools, yet despite its importance as a biblical book it is generally misunderstood. Readers will enjoy Dr. Drazin's analysis of Samuel and learn much from it, not only about Samuel but also about how the Bible tells its tales.