HOME
|
The Official Gefen Publishing House Website -
One Stop Webstore for Jewish Books and Hebrew Studies Textbooks From Israel
|
Join Email
List
|
Contact
us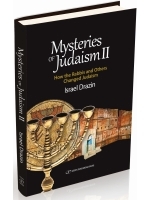 Price In Israel NIS 56
Mysteries of Judaism II
How the Rabbis and Others Changed Judaism
Author:
Israel Drazin
Price: $19.95
Special Price: $14.96
Buy from Gefen for this special price!
Format:
Hard Cover
ISBN 10:
9652298867
ISBN 13:
9789652298867
Catalog Number:
g886 / 886-7
Number of Pages:
192
Year Published:
2017
Description:
From kindergarten on, Jewish children are taught that the Torah as observed today is identical to the Torah given at Sinai. Unfortunately, many adults today, even those at the highest institutions of Torah learning, never develop a more nuanced and complex view of the evolution of the Torah. In another fascinating book, Israel Drazin shows how the Torah has been adapting to and adopting from its surrounding cultures, from the time of the Canaanites, through the Talmudic period, and until today.
Although challenging to some preconceived notions, and perhaps even threatening to some dogmatic elements, this richer view of Judaism reveals how a breathing, flexible religion has been essential in upholding the unity of the Jewish people throughout the centuries.