HOME
|
The Official Gefen Publishing House Website -
One Stop Webstore for Jewish Books and Hebrew Studies Textbooks From Israel
|
Join Email
List
|
Contact
us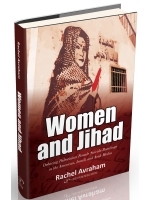 Price In Israel NIS 64
Women and Jihad
Debating Palestinian Female Suicide Bombings in the American, Israeli and Arab Media
Author:
Rachel Avraham
Publisher: Gefen Publishing House
Price: $14.95
Special Price: $11.96
Buy from Gefen for this special price!
Format:
Paperback
ISBN 10:
9652299030
ISBN 13:
9789652299031
Catalog Number:
g903a
Number of Pages:
231
Description:
Rachel Avraham's new book explores the ways in which Palestinian female terrorists have injected their narrative into the Arab, American and even Israeli media. The publicity objectives of Palestinian terrorists are examined in order to better understand how they hope to realize them. An analysis of media materials demonstrates the means by which Palestinian female suicide bombers, whose motives differ from male suicide bombers in many key regards, have had their depressing life stories exploited for the benefit of the Palestinian terrorist organizations.
Women and Jihad examines media coverage of Palestinian terror attacks in Israel through the lens of the terrorists' agendas and the extent to which those agendas have infiltrated the media. The book explains how journalists can cover terror attacks without giving in to the publicity objectives of the terror organizations.
This book is the only one of its kind that focuses on the Arab, Israeli and American media coverage of the Palestinian female suicide bombings during the Second Intifada period and connects it to the present situation in Israel from the period leading up to Operation Pillar of Defense to the Knife Intifada.
The book provides examples of the ways in which the academic study of terrorism has led to the appeasement of terrorists.