HOME
|
The Official Gefen Publishing House Website -
One Stop Webstore for Jewish Books and Hebrew Studies Textbooks From Israel
|
Join Email
List
|
Contact
us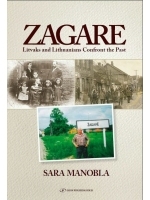 Zagare
Litvaks and Lithuanians Confront the Past
Author:
Sara Manobla
Publisher: Gefen Publishing House
Price: $15.95
Buy from Gefen for this special price!
Format:
Paperback
ISBN 10:
9652296570
ISBN 13:
9789652296573
Catalog Number:
9789652296573
Description:
When veteran broadcaster Sara Manobla represented Israel at an international conference of journalists in Moscow in 1977, little did she realize that her contact with the Jews of the Soviet Union would become the start of her own voyage of self-discovery. Her commitment to the cause of the refuseniks and her involvement with them once the gates of emigration opened and they arrived in Israel eventually led to an exploration of her own family history. Together with her cousin, she embarked on a roots journey to Zagare, a little shtetl on the border between Lithuania and Latvia. Here she met Isaac Mendelssohn, the sole survivor of the town's Jewish community. Unexpectedly, a meaningful and fruitful relationship developed between Isaac, a group of descendants and a group of local inhabitants, a relationship always shadowed by memories of the slaughter in 1941 of Zagare's Jewish population by Nazis and local Lithuanian collaborators. The culmination came in 2012 with a joint project of the two groups to erect and dedicate a memorial plaque in the center of the town. As part of her desire to accept Zagare, Sara Manobla followed up on the story of an elderly Jewish woman and her granddaughter who had been rescued and hidden by a Zagarean family during the Nazi occupation. She tracked down the granddaughter, now living in Jerusalem, and her testimony resulted in the Zagarean family being posthumously honored by Yad Vashem Holocaust Martyrs' and Heroes' Remembrance Authority as Righteous among the Nations. The book ends on a note of hope and reconciliation, as this account of a search for roots leads to a coming to terms with today's highly charged relationship between Lithuanians and Jews.
Reviews:
Zagare – Litvaks and Lithuanians Confront the Past is an elegantly written account of the author's personal discovery of her family's Litvak past, the legacy of a destroyed Jewish community and its message for Lithuanians. A superb storyteller, Manobla draws the reader in brilliantly as she herself transforms from someone disconnected with her past into a kind of Jewish Sherlock Holmes, uncovering the horror of the Holocaust and the heroism of a few families while harboring a sense of hope for the future. Zagare is a book that should be read not only by Litvaks and Lithuanians, but by anyone interested in the history, present and future of the relationship between Lithuania, Israel and the Jewish people.
STEVE LINDE (Editor in chief, Jerusalem Post)
The call of ancestral voices drew British-born Sara Manobla from her home in Israel to the Lithuanian country town of Zagare, where a long-established shtetl community met its end in 1941, massacred in the town square and nearby forests. Seven decades later, her mission was the erection of a memorial in that once blood-soaked square. Although local collaborators had joined in the Nazi killing, she rejected thoughts of revenge or a settling of accounts in favour of accepting, acknowledging, remembering and educating. At the memorial's unveiling ceremony, attended by the President of Lithuania, she did not back away from the sensitive issue of local collaboration, but went on to pay tribute to the heroic few who risked their lives to save their Jewish neighbours. Thanks in no small way to her efforts, Yad Vashem has honoured them as Righteous among the Nations. Manobla's book chronicles her journey from initial genealogical curiosity to a healing conclusion in which the whole town participated. Writing in a spirit of reconciliation, she brings much-needed light to the darkness of the past. Zagare has hope at its heart. It is an uplifting story.
THEO RICHMOND (Author Konin – a quest)
I read it through with great pleasure and admiration. A page-turner! The story of how Lithuanians and Jewish descendants of Zagare worked together to honor the murdered Jews and remember the rescuers is heart-warming.
ELLEN CASSEDY (Author We Are Here)
I have just finished this wonderful book. Although not a Zagarean, I was moved to tears, especially in the last chapter of the insight and understanding. I read it almost holding my breath, although clearly knowing the outcome in general.
Beautifully written, with passion and felicity. And that's not for an official comment just my own feelings and knowledge of how close I am to the issue after looking at my own family's past.
The author is a historian who doesn't easily give up the fight to get to the truth. And yes, now's the time for latkes and tzimmes.
ZVI PANTANOVITZ
Broadcaster, Kol Israel)


The basic theme running through Sara Manobla's compelling new book, "Zagare: Litvaks and Lithuanians Confront the Past", is coming to terms with history – on a personal level in Manobla's case, and in respect of a whole town, where Zagare itself is concerned. As we accompany her along her twin paths of discovery, we find the two strands merging and becoming one. Lithuania, its chequered past during the Nazi and subsequent Soviet domination of the Baltic, and its difficulty in accepting and dealing with the involvement of its citizens in the Holocaust, provides the background. In "Zagare", Manobla takes her readers by the hand and leads them, by way of her personal testimony, into the fascinating story of how at least one Lithuanian town made a positive effort to reconcile itself to its own history. At the same time she reveals how she discovered and, in a sense, came to accept her own roots. It makes for a captivating, engrossing read.
NEVILLE TELLER
(Author, Jerusalem Post online columnist, BBC writer)