HOME
|
The Official Gefen Publishing House Website -
One Stop Webstore for Jewish Books and Hebrew Studies Textbooks From Israel
|
Join Email
List
|
Contact
us
Specials
Categories:
Featured Items in Category Specials
Hebrew Bookshelf for Kids
Price: $96.75 $77.44
Dora the Explorer - Big Sister Good Night Mo...
More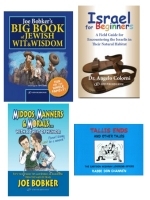 Judaism and Israel With Wit and Hilariaous Illustrations
Price: $76.80 $57.60
Who says its not funny being Jewish?
Be the life of the seder! have lots of intere...
More