HOME
|
The Official Gefen Publishing House Website -
One Stop Webstore for Jewish Books and Hebrew Studies Textbooks From Israel
|
Join Email
List
|
Contact
us
Rabbi Shlomo Wexler was born in Brooklyn, New York. He received his rabbinical ordination from the renowned Rabbis Belkin, Soloveitchik and Shatzkes at Yeshiva College. He also earned an MA in Sociology from Columbia University. After thirty years in the Rabbinate, Rabbi Wexler ventured into Computer Science, earning an MS from Pace University where he joined the faculty. He also worked professionally as a computer analyst at Consolidated Edison, Baruch College, Morgan Bank and Merrill Lynch. He emigrated to Israel in 1988 and became the registrar of Neve Yerushalayim College.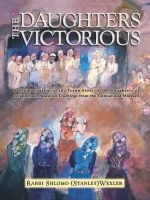 The Daughters Victorious
Price: $18.95 $14.00
A Dramatization of the Torah Story of the Daughters of Zelaphchad
More than 3,000 years ago, five determined wo...
More