HOME
|
The Official Gefen Publishing House Website -
One Stop Webstore for Jewish Books and Hebrew Studies Textbooks From Israel
|
Join Email
List
|
Contact
us
Of
Moshe Aumannís
35 years of active service in Israelís Foreign Ministry, the last four were devoted largely to the intensive study and practice of Jewish-Christian and Israel-Christian relations. This includes a 3-year tour of duty at Israelís Embassy in Washington as Consul General and Minister-Counselor for Relations with the Churches. Since his retirement in 1991, Aumann has continued to maintain close contact with Christian leaders and communities in Israel and abroad. He serves as Editor of Christians and Israel, a quarterly publication of the Association of Christians and Jews in Israel, and he is a sought-after speaker and lecturer for local institutions and visiting groups, as well as overseas.
A graduate of CCNY, with a Social Science degree in English and Journalism, Aumann came to Israel in 1950 and settled in Jerusalem. For five years he wrote and edited Chronicles Ė News of the Past Ė an authentic journalistic treatment of the Bible and post-biblical Jewish history. After one year as Managing Editor of the weekly Here and Now, Aumann joined the Foreign Ministry, where his diplomatic career included three periods of service in the USA, and where, for eight years, he was the Ministryís Chief Writer and Editor.
Publications include Land Ownership in Palestine, 1880-1948, Jerusalem, The Palestinian Labyrinth, Facts About Israel (1985 edition) and numerous articles, booklets and translations on a variety of subjects.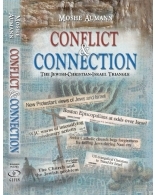 Conflict and Connection
Price:
$22.95
The Jewish-Christian-Israel Triangle
Most Jews and Christians are unaware that an ...
More